Online Education Programs for Preschoolers in Jammu and Kashmir, Leh and Ladakh
Education is the only means to help people progress in life. Providing good education to children from the very beginning can help them become achievers as they grow up. However, at times teaching children is encountered with obstacles such as lack of facilities, lack of knowledge, or other unavoidable factors like problems in commuting and harsh weather conditions.  
Children living in the union territories find it extremely difficult to cope up with their studies due to the constant disturbances created in their surroundings due to external factors. It has been found out by the Jammu and Kashmir police based on media reports that Kashmir has lost a significant number of working days time and again due to harsh weather.  207 days were lost in 1991, 112 in 2010, and 130 in 2016. 
However, in the fast-growing world there exists solutions to all the problems.  Online education programs have made the life of small children easier, especially for kids learning in the union territory. Learning at home can be the only secure option for such children to grow at par with the world and develop their infant minds. 
Read with us to know how OurPlayschool.com can help your child overcome the challenges faced in learning by providing aid in every way needed. 
Why is Online Education Important for Kids?
Online education is important for kids to help them learn in their comfort zone. It is difficult for toddlers to part with their parents and go to school in a young age. we bring the school to your home. The learning experience is ameliorated if the child feels comfortable and is around his parents. 
Finding himself in the middle of various disturbances and distractions, a child might get distracted and as a result lose interest in studies. Online learning proves to be a boon in these cases by providing the child with a proper learning environment to immerse completely in the learning process without being distracted. 
Another boon of the online academy is that parents can constantly monitor their child's progress and stay in close touch with the instructor thereby supporting their kid's online education.
With the help of online sources such as learning-based games, videos, riddles, and other activities, the process of teaching a child is rendered much easier. Additionally, the chances of distraction hindering the learning process are reduced with the absence of other students. Your child will throw lesser tantrums and focus on studying if he does not see other children around him. 
Considering all these advantages, would anything be better for toddlers than online preschool education? 
Why Does Kashmir, Jammu, and Leh-Ladakh Have a Low Literacy Rate? 
Kasmir, Jammu as well as Leh-Ladakh have a low literacy rate owing to the constant disturbances and chaos that these places have to encounter such as unfavourable weather conditions and travel control which reduces the number of working days. Even if the condition gets better in these areas, parents prefer not to send their children outside to study as a means of providing safety to them.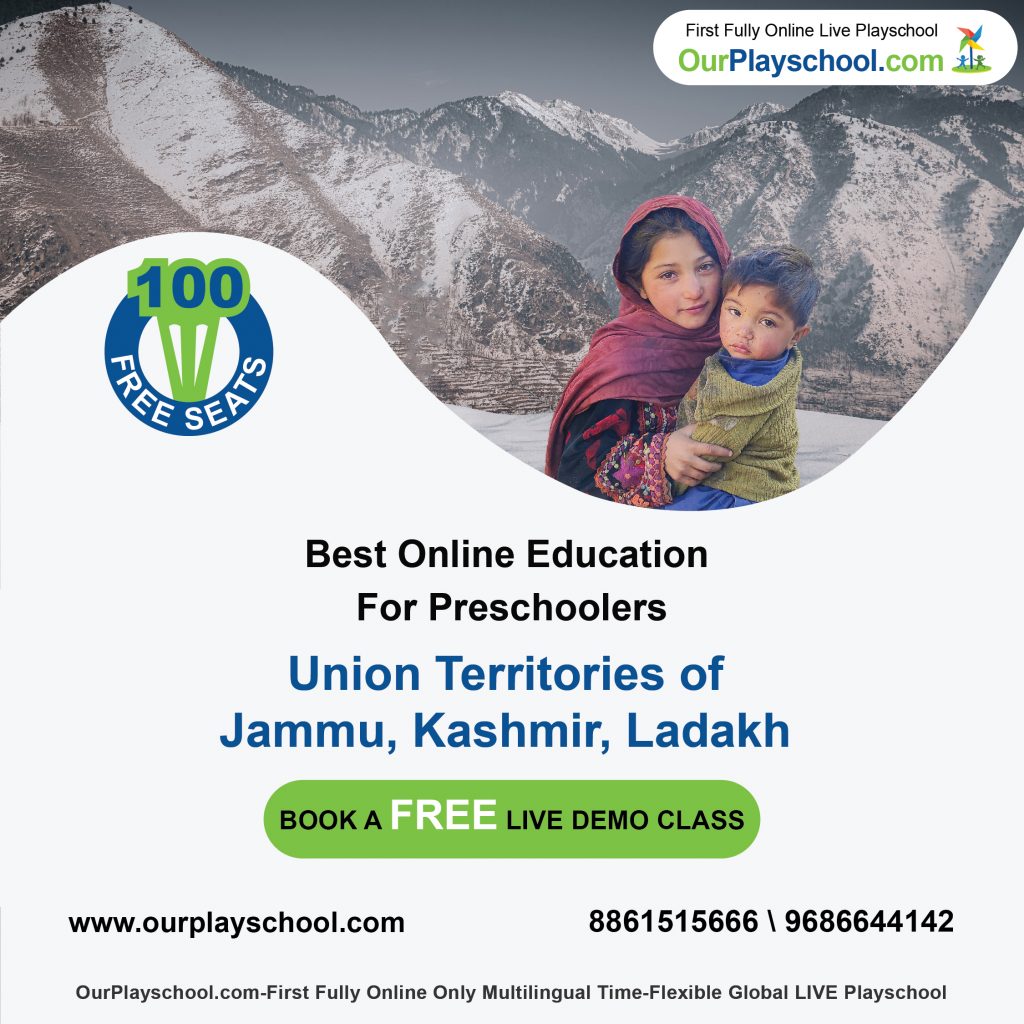 Further, it must be noted that the literacy rate of women in these areas is lower than that at any other place since they are the primary targets when anything goes haywire in a system. 
It is important to understand that all these obstacles can be overcome and the means to study can also be altered in a more region-friendly way with flexibility in timings and place. However, the current situations have further deteriorated the literacy rate, not just increasing the disturbances but also pushing the youth of these areas behind those around them. 
What is the Motive of Our Union Territory Programs?
We have introduced new Union Territory programs to aid those children who are forced to miss out on proper learning due to their imbalanced surroundings. This program provides the child with all the resources along with the ideal learning environment to study. 
Some of the features of the program have been listed below:
Location:

Our Union Territory programs are customised specially to be made available in Kashmir, Jammu, and Leh-Ladakh owing to the unfavourable weather conditions prevalent in these regions. 

Squirrel Program:

We

offer squirrel programs

that take place online. It includes 2 academic sessions per week of 30 minutes each. The cost for these programs is conveniently fixed at rupees 999 per month. 

Age group:

Our online Union Territory program is suitable for all children in 4+ to 5+ age groups. It has been made exclusively to cater to the needs of their growing and maturing minds. 
Our program will start from 1 April'2021 and we are also providing a reservation for 100 free seats to be offered in the beginning. The program consists of varied methods and modules to help children learn new things with fun and enthusiasm not letting their surroundings affect them in any way. 
Endnotes
We provide proper guidance to children to learn even in adverse circumstances living in union territories. With our holistic learning approach, you will not have to wonder how to help your child with online learning since we provide complete support for active learning. 
At OurPlayschool.com, we design children-friendly modules to make learning fun for your child along with encouraging creativity and inquisitiveness. Not only this, but we also make learning flexible so that you can give your child ample time when they learn. We offer classes between 8:00 am to 8:00 pm because we understand the unique needs of your child and are willing to adjust as per their schedule. 
We offer a number of modules for the parents to choose from for their child as per their unique requirements.  OurPlayschool.com has all the solutions ready for your toddler where you can be sure of your child's progress. Not just strictly academic, but we offer other extra-curricular activities as well for your child to make learning more fun and engaging for their young mind. 
People learn better when they are taught in a conducive environment and encouraged to learn different skills with complete aid. This is exactly the motive of our playschool to help nourish minds and provide opportunities to every child, irrespective of their social, economical, or regional disparities. 
Enrol your child at OurPlayschool.com now and get rid of all your worries about giving your child the perfect education.
---
---